Dear Customers,
As you know, a new type of corona virus (2019-nCoV) infection has caused a pandemic condition that started in China and spread to the world.
In order to fulfill our responsibilities to all our current and new customers around the world, we inform you that our Business Continuity Plan is held so that there will be no problems in our processes regarding our supply, production and logistics system as of now and in the coming months.
Our entire supply chain has been evaluated from raw materials to finished products, spare parts, logistics and status information is provided in the table below.
Filternox continues production and services in order to keep your business and facilities working by taking all precautions both in supply, production, personnel and logistics processes, as well as hygiene and health in our facilities.
Sincerely,
FILTERNOX
---
Evaluation of Covid-19
A : All raw materials incoming is 70% effective and active by means of production time and delivery time by the moment
B : All our staff in Valencia are 7/24 working online
C : Our manufacturing is 90% effective by means of production time and final testing approval
D : 100% Effective in terms of all spare parts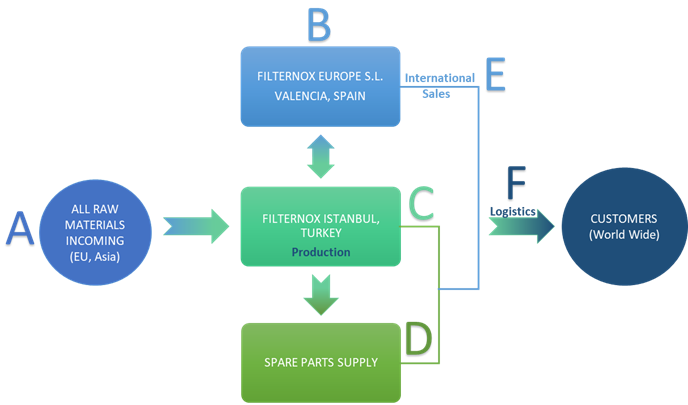 E : During the last weeks, we have been delivering to most countries as usual however some companies might not be able to receive goods from their customs because of declared curfew.